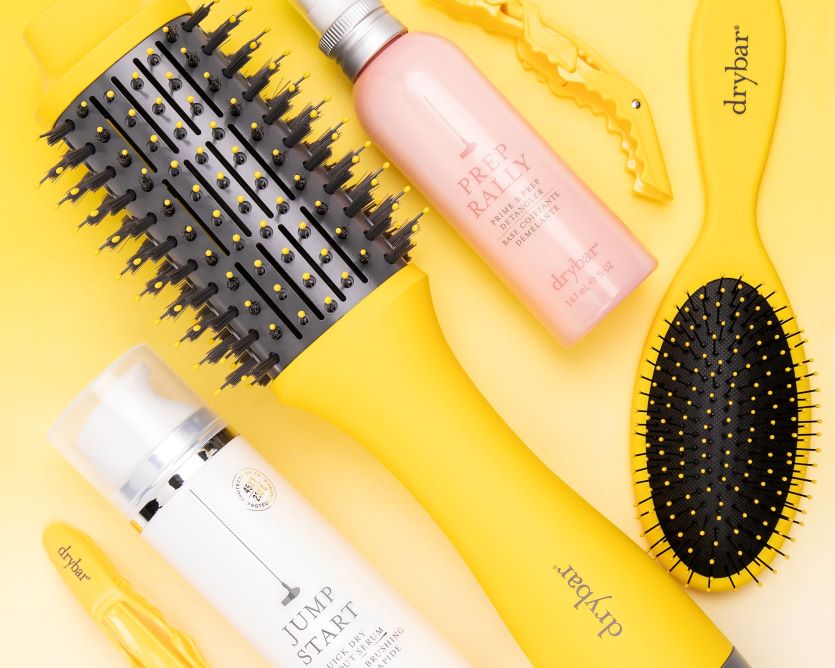 BLOW-DRY
| 'blō,dry |
NOUN
1. The act or instance of blow-drying hair after wash, includes styling.
2. Happiness, confidence and relaxation in mind and body that you look good.
3. The best products for such a blowdry come from Drybar.
Synonyms: pleasure, contentment, joy, delight, cheerfulness, glee, good spirits, happy, enjoyment, heaven
SO WHAT IS A BLOW-DRY?
You might've heard of the term from a family member, friend or coworker - but do you know what it actually is? Blow-dry hair treatments have been around for decades, but the definition of a blow-dry has evolved with the rise of blow dry bars and varies depending upon the salon. In its simplest form, a blow-dry is the art of drying hair after a wash to achieve a smooth and sleek look, style and feel -- no curling or flat iron involved!
SO, WHAT IS A BLOW-DRY BAR?
A blow-dry bar is a hair salon that provides exclusively blow-dries, which includes a wash, blow-dry and hair styling – no cut, no color! But at Drybar, we're much more than that. We're an experience. Our blow-dries provide you 45 minutes of relaxation, beautification, and happiness! Get together with your besties before the party starts and get pampered while enjoying complimentary drinks when you choose our private events. We also offer additional services, such as a 10-minute scalp massage or deep conditioning hair mask to further nourish your hair and relax your mind.
HOW DOES A BLOW-DRY WORK?
We've revolutionised the traditional blow-dry, offering 8 unique styles, from old Hollywood waves to sleek, city-inspired hair, to get the look you want. Here are the 7 basic steps to delivering our signature blowdrys:
Prep your hair with an intense shampoo and conditioning wash
After your hair is cleaned, towel dry it to get rid of any excess moisture
Apply some product to condition and detangle the hair before the blow-dry
Next, section the hair using our Hold Me hair clips to separate strands without leaving dents
Then with our signature blow dryer and round ceramic brushes, minimise frizz and get the style of your choice
One last step is the "cool shot" to set your hair, locking in style and shine
Finally, use our high-quality hair products to add finishing touches, such as soft dimension and texture
Add additional dimension and curl with hot styling tools to achieve the style you want
If you're interested in learning how to do a blow-dry yourself, see our step-by-step DIY blow-dry videos to get Drybar's signature style at home.
HOW LONG DOES A BLOW-DRY LAST?
A blow-dry is designed to last - and it can hold its shape anywhere from 3 to 5 days, depending on the texture and thickness of your hair. If you decide to start treating yourself to blow-dries regularly, your hair may start to adapt to the shape and style, making it last a little bit longer each time. We also recommend hairstyle tips and offer products, such as dry shampoo and conditioner, to help absorb oils, clean your hair and extend your blow-dry in between services.
WHEN TO GET A BLOW-DRY?
Whenever you want! We are committed to making our clients feel like a million bucks, no matter what day of the week. Depending on your hair texture – especially thick, curly or frizzy hair types – you may find that getting a blow-dry regularly is much easier than doing it yourself.
Whether you're simply meeting up with friends or attending a wedding, come into any of our Drybar franchise locations and come out feeling like your best self.

Added to your basket
Sorry, there seems to have been an error. Please try again.
Subtotal: ( items in your basket)
Quick Buy
Sorry, there seems to have been an error. Please try again.